Early 1849 -
At the beginning of 1849, only 54 Chinese lived in California. With the news of the Gold Rush spreading to the Chinese Empire, a rush of Chinese immigrants started to come across the Pacific Ocean.
History: The Chinese in California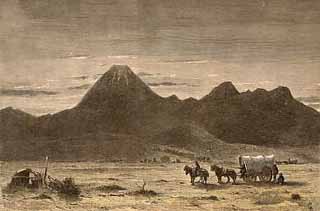 A lonesome wagon on its way
Since Hop Sing is believed to be with the Cartwrights for quite a long time, even knew Marie, he might have been one of the 54 and might have worked on Sutter's land. With the Cartwrights moving to the Sierras, Hop Sing might have accompanied them. His help would certainly be needed.
Hoss would be around thirteen years old at this time, Little Joe seven.
At this time, the (future) Ponderosa was forced to be largely self-sufficient, as there was nothing around to buy any goods from, except for the young Sacramento town (170 miles away) and the crude Dry Diggins (90 miles away in the opposite direction) - provided Ben knew about Dry Diggins, that is. All the goods required to build the ranch must have hauled across the Sierras in a wagon - nails, tools, lamp oil, flour, sugar, coffee, ropes, harnesses, tacks, clothes, furniture, all personal possessions, and the livestock.
The episode 'Blood on the Land' mentions that one of the first things Ben did was clearing pastures and planting grass - given that we're not talking about a small backyard garden here, add a load of seeds to the list.
This map of 1848 below shows the way from Sutter's Nueva Helvetia across the Sierras into Nevada - I've highlighted it in red so it is easier to see. If you click on the map and have a look at the bigger one, you can see that some more of future Nevada territory has been explored. Pyramid Lake jumps into the eye, as well as the Carson and Walker rivers. Funny how the draw Pramid Lake so big and (what I suppose is) Lake Tahoe can barely be seen.
Early 1849 -
Prompted by the gold rush, a settlement was founded at a location 60 miles (97 km) northeast of Sacramento, and called 'Nevada' (meaning 'snow-covered', a reference to the snow-topped mountains in the area). Later in 1850-51, it would become the most important mining town in the state, its Nevada County being the leading gold-mining county in the state. The town of Nevada was incorporated on April 19, 1856. In 1864, 'City' was added to the name to avoid confusion with the state of Nevada, making it 'Nevada City'.
Good - another shopping avenue for the Cartwrights, and only 130 miles away...
1849 -
Hundreds and then thousands of prospectors and settlers crossed the Great Basin and Sierra Nevada into California in search of a quick fortune. It is estimated that 22,500 settlers passed through the Truckee Meadows in 1849, then 45,000 in 1850 and up to 52,000 in 1852. Gold and silver prospectors began combing the barren lands of Northern Nevada.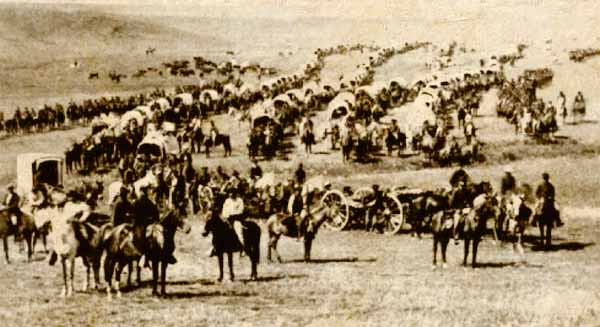 Spring 1849 -
All this might have proven to Ben that his dreams of building a ranch on his Ponderosa land would not only have a big chance to become true, but might also have a bright and prosperous future. The wagon trains must also have provided some more chances to do business for Ben, selling beef and probably trade in the one or other item for the ranch house.
Ben writes a letter to his 19-ys-old son Adam, who is still studying in New England.
March 1849 -
Mormon leader Brigham Young in his far away settlement at the Great Salt Lake proclaimed the so-called 'State of Deseret', an area encompassing present-day Utah, Nevada, southern California and parts of Arizona, Idaho, New Mexico and Colorado. That guy certainly was a raving megalomaniac - and sheds a certain light on what kind of people he represented.
1849 -
William Sharon arrived in the west to search for gold. He had no luck so he went into real estate. He met William Ralston, owner of the Bank of California in San Francisco. Later in 1864, a branch opened in Virginia City.
1849 -
Captain Jefferson Hunt took a wagon train from Salt Lake City to Southern California via the Mormon Trail. One of the groups he led to California became impatient at his slow progress, and many of the party members elected to abandon Hunt's group, and follow their own route to California. They became the infamous Death Valley '49ers. Those staying with Hunt made the journey without serious incident.
1849 -
The first recorded discovery of gold in Nevada was in Gold Canyon near present day Dayton.
Later in 1849 -
Adam, 19 years old, receives his father's letter, informing him about the latest development and speaking in glowing terms of the future that the land would hold for a young man and studied engineer. Adam, having finished his college, breaks off his private architecture studies and heads west to reunite with his family. Given the times and the absence of stage coaches, the journey must have taken him months
Somewhen around this time, Marie Cartwright died after a riding accident on the Ponderosa, just in front of the house (Marie, My Love). In the episode 'A Rose For Lotta' Joe recalls his mother died before he was five, but I'm inclined to believe it must have been later than that. In 1849, Joe would have been seven years old.