Virginia City 1861 (drawing) - View from the Gould & Curry claim
January 1, 1861 -
The Reform War in Mexico ended and Benito Juarez became president.
January 1861 -
South Carolina legislature felt a threat when Abraham Lincoln was elected president. Calling a state convention, the delegates voted to remove the state of South Carolina from the union known as the United States of America. The Secession of South Carolina was followed by the secession of six more states - Mississippi, Florida, Alabama, Georgia, Louisiana, and Texas - and the threat of Secession by four more - Virginia, Arkansas, Tennessee, and North Carolina. These eleven states eventually formed the Confederate States of America.
January 27, 1861 -
Beginning of the so-called Bascom Affair which marked the beginning of the 25-year-long Apache Wars in the territories of Arizona and New Mexico.
Spring 1861 -
Fort Churchill was completed. Built to provide protection for early settlers and the mail route along the Pony Express, the fort became an important supply depot for the Union Army during the American Civil War. Average strength during this time was 200 soldiers.
Spring 1861 -
Begin of the Owen's Valley Indian War between the Southern Paiutes and whites. This war would last until 1863.
February 26 to March 2, 1861 -
On February 26 the US senate passed legislation entitled 'An act to organize the Territory of Nevada', the House of Representatives followed suit on March 2 and president Buchanan signed it into law. Thus, after ten years of pleading, the settlers of Western Utah finally achieved their goal: the establishment of Nevada territory.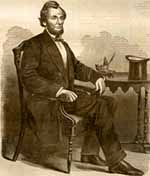 March 4, 1861 -
Two days after Buchanan had signed the act of establishing Nevada Territory, Abraham Lincoln took office as president of the United States. In his inauguration speech, he said he had no plans to end slavery in those states where it already existed, but that he would not accept secession. He hoped to resolve the national crisis without a war.
March 22, 1861 -
Lincoln announced the appointment of James W. Nye of New York as territorial Governor and Orion Clemens as territorial secretary. Orion Clemens was the older brother of Samuel Clemens, later known as Mark Twain.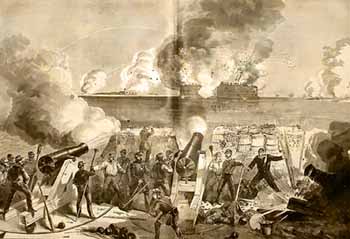 Attack on Ft. Sumter (Harper's Weekly 1861)
April 12-13, 1861
Confederate batteries attacked Fort Sumter in Charleston, South Carolina. This was the beginning of the American Civil War.
June 6, 1861 -
Captain Tredwell Moore, along with twenty men, was dispatched from Fort Churchill to check out rumors of Confederate agents being active in some of the mining camps. Captain Moore, along with U. S. Marshall John Blackburn, confiscated arms from the citizens in Carson City, then marched on to Silver City where he confiscated twenty-one more arms, and then on to Virginia City, where he was to investigate the flying of the Confederate flag.
June 6, 1861 -
There was only one Confederate flag - waving over a store on the corner of Sutton Avenue and A Street with a small group of sympathizers to protect it. After some excitement among the citizens, the flag had to be put down. Captain Moore believed there was a secret organization in Virginia City; he rode in with twenty dragoons and formed two companies of fifty Volunteers each upon his arrival. He gave them the confiscated arms, had them swear an oath to protect the Union and to suppress any rebellious actions. This was the first step towards placing Nevada under martial law.
Southern sympathizers that were found in the Comstock district were taken into 'custody'. They were brought to Fort Churchill where they were kept busy with what could be considered corporal punishment. It was reported by a traveler that the sympathizers were given special treatment, a special form of exhaustive work. A twenty foot chain was locked around the prisoner's ankles, the other end fastened to a short post. Then for two hours he was forced to walk at chain's length around the post carrying a fifty pound sack of dirt on his back.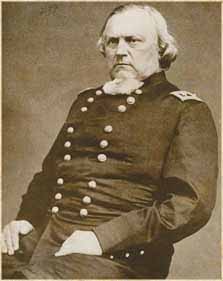 July 4th, 1861 -
A staunch supporter of the North, Governor Nye held a speech while in San Francisco in which he declared that 'no utterance against the Union would be tolerated, and that being neutral in the issue was not possible'.
Since many of the prospectors which had migrated to Nevada in search of fortunes came from the south, the secession of the South aroused many feelings that often erupted into violent confrontations - and were harshly suppressed by the government.
July 7, 1861 -
Governor Nye arrived in Nevada and chose Carson City as his site of operation. He later instructed the first territorial legislature to meet there, indicating the town's ascendance in the territory over the previously dominant Genoa.
During the month of July, Nye issued three proclamations: the first named his appointees to various territorial offices (July 12), the second announced the creation of a judiciary (July 17), and the third called for elections to be held on August 31 for the purpose of selecting a delegate to Congress and members ot the territorial legislature (July 24).
Later this summer, Nye established a supreme court, three district courts, probate courts and justices of the peace. Three Lincoln-appointed territorial judges each heard cases on original jurisdictions in one of the three district courts, and all three sat en banc as the supreme court to hear appeals.
Summer 1861-
With the Civil War, the Overland Mail route was moved to a northern route to lessen the possibility of Confederate attacks.
August 31, 1861 -
Judge Cradlebaugh was chosen to serve as the territory's first delegate to Congress.
October 1, 1861 -
The first Nevada Territorial Legislature met in Abraham Curry's Warm Springs Hotel two miles outside of Carson City. Some of the 107 pieces of legislation passed were those of adopting the common law of England and establishing a system of common schools. In one of its first acts, the Territorial Legislature provided that no 'black person, or mulatto, or Indian, or Chinese' would be allowed to give evidence in court either in favor of or against any white person. The legislature further prohibited 'cohabitation with Indians, Chinese and negroes (sic)' and made a breach of that law punishable by either a fine or a jail term.
Also, the territory's capital was chosen, which led to a barroom brawl between a Virginia City councilman and a Carson City representative. By a vote of 15 to 9, it was decided that Carson City would be the territory's new capital. Further, the territory was divided into nine counties: Churchill, Douglas, Esmeralda, Humboldt, Lyon, Ormsby (later to become Carson City County), Storey, Washoe and Lake Counties, each to be governed by a three-member-board of commissioners.
Given the location of the Ponderosa, would be in both Ormsby and Washoe County - while Virginia City was in Storey County. Means that the authority of the Virginia City sheriff did not extend to Ponderosa land.
I've crudely marked the Ponderosa in a map of 1863, in green. As you can see, Reno is missing, as it didn't come into existance before 1868. Until then, it was nothing but a family-owned settlement known as Lake's Crossing.
If Ben was too happy with folks building roads in his land?
October 24, 1861 -
The Overland Telegraph Company of California that had begun building its line east from Carson City, Nevada while its eastern counterpart, the Pacific Telegraph Company had begun building west from Omaha, Nebraska finally were connected in Salt Lake City, Utah. This was the final link between the east and west coast of the United States of America. The First Transcontinental Telegraph led to the immediate demise of the Pony Express.
The Pacific Telegraph Company of Nebraska and the Overland Telegraph Company of California were eventually absorbed into the Western Union Telegraph Company.
1861 -
Charles William Fuller sold his crossing to Myron Charles Lake in 1861, the name becoming Lake's Crossing. While Lake improved the crossing, its population was essentially Lake's family until 1868. It was not considered a village prior to 1868, only after that it was renamed Reno.
December 11, 1861-
Storey County received its first sheriff. In the next seventeen years, seven different men would hold that office, none longer than four years.
Of course, we all know that, apart from a few hapless temporaries, the one and only sheriff of Storey County and thus Virginia City was Roy Coffee...
June 21, 1861 -
The 'Central Pacific Rail Road of California' was incorporated; the name would later be changed to 'Central Pacific Railroad of California'. President Lincoln would sign the the Pacific Railway Act on July 1, 1862, which authorized the Central Pacific and the Union Pacific to build a railroad to the Pacific Ocean.
August 1861 -
A frenzy of construction resulted in a corresponding level of activity at the Carson County Recorder's office as deeds, mortgages, agreements, and partnership records were filed by the hundreds.
September 14, 1861 -
The Territorial Enterprise changed from weekly to daily publication in Virginia City - sure sign of the town's growth.
Here is a long row of buildings in Virginia City 1861 - taken from the frameworks of the drawing above. Move over the arrows to scroll through the images.
1861 -
A daily overland mail stage was established.
Nevada's population was recorded at 14,404 persons, with about 4,581 persons, residing in and around Virginia City.