Meanwhile, Vaughan remains - like many Texas guitarists - a die-hard Stratocaster player who uses a minimum of effects. For the new album, he's stuck mostly with the white, Strat-style guitar he posed with for the cover of Couldn 't Stand The Weather. Built in 1983 for Vaughan by his friend, the late Dallas guitar dealer and repairman Charley Wirz, the guitar features Danelectro pickups and custom wiring. The instrument's sound is exemplified by the light, quickly strummed break in "Tin Pan Alley", which was recorded with only a low Leslie effect.

A simple message is engraved on the metal plate where the neckjoins the body on the back of the guitar: '"To Stevie From Charley. More in '84."

It's rather characteristic of the generous spirit that Vaughan' s early success inspired in many of his old Texas fans - indeed, Soul To Soul is dedicated to Wirz.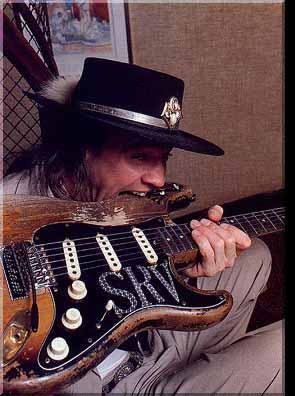 "I've been going between that guitar, the beat-up '59 Strat and this other guitar that Charley found for me, a '61 Strat," said Vaughan. "It's brutal. They all have that neck, and I associate them with Charley - I didn't get the '59 from him, but he worked on it so many times that it feels like I did, I guess. I like the white one. It sounds like my old beat-up one, but it' s cleaner, not quite as fuIl-sounding. And Charley never told anybody but me what he did when he wired it."

"But that's the sound," he added. "That Leslie and that guitar, if the amp's working clean. You have to use the right amp, like a Super, with the Leslie and a Vibraverb head - it's really a steel guitar head. If you set 'em all up in a live room, it sounds great. I don't use a chorus - I like to get that sound with a Leslie too. It's old-fashioned, but I'm trying to bring it up-to-date."

Vaughan is fairly vague about his amp set-up, though he admits to keeping two Vibraverbs, two Super Reverbs, a Dumble 150-watt Steel String Singer (which he'd stopped using for a while, but returned to recently) and the Leslie all hooked together. The actual combination, he explained, was determined over a period of time by which amp worked when, until he accidentally came up with a combiation that he liked. Other amps seem to come and go - indeed, in the several weeks between interviews, he'd acquired another Fender.