"I was sitting in the audience at a little club downtown on Congress Avenue called After Hours," recalls Austin guitarist Van Wilks. "I was checking out Stevie with The Cobras. Then, all of a sudden, Stevie starts singing that Freddie King song, 'Goin' Down,' and I nearly fell off my chair. Everybody knew he was a great guitar player, but nobody had ever heard him sing before. Later, he developed his voice into a phenomenal instrument, even though he remained kind of shy about it. Hendrix said he didn't like his own voice, either, and I always felt he had an incredible singing voice. I thought the same thing about Stevie. I mean, there was more to him than just playing single notes on the guitar."

Two significant events jolted the Austin scene almost simultaneously: Jimmie Vaughan formed the Fabulous Thunderbirds, and Clifford Antone opened a blues haven on 6th Street. As the club owner recently recalled, "I had an import clothing store, and in a big ol' room in back we had amps and drums and a PA set up for late-night jam sessions. I'd play bass, Jimmie and Stevie played guitar, Doyle Bramhall played drums - just a bunch of friends jamming the blues from seven in the evening 'til four, five in the morning. When the city passed the 2 a.m. drinking bill (bars had previously been forced by law to close by midnight) we just found a building and opened up the nicest club this town's ever seen."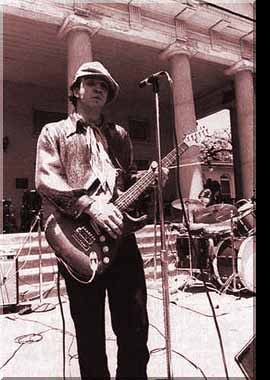 By the summer of 1977 Stevie had left The Cobras to form Triple Threat Revue, a versatile outfit featuring Mike Kendrid (composer of "Cold Shot") on piano, W.C. Clark on vocals and bass, Dallas drummer Freddie Pharaoh and the fiery Fort Worth vocalist Lou Ann Barton, who left the T-Birds to join Stevie's new band. What with Stevie's Hendrix covers, Lou Ann's torch ballads and Janis Joplin covers, and W. C.'s Freddie King covers, the band was indeed a Triple Threat. Ultimately, however, egos clashed. As the Austin American Statesman's blues maven Michael Point put it, "Lou Ann... really wanted a guy to back her up on guitar, and not show her up with guitar hero tricks. And Stevie wanted a backup vocalist, not a star. That tension was often visible on stage."

The conflict didn't prevent Stevie from including Lou Ann in the original lineup of Double Trouble (named after his favorite Otis Rush song), which he formed in May of 1979. Cleve Hattersley, an Austin musician who moved to New York in 1978, recalls booking that first edition of Double Trouble in 1980, at the old Lone Star in Manhattan. "We booked them for $100. They drove all the way up from Austin and crashed on friends' couches. The gig went all right, but afterward, Lou Ann kind of got out of hand. She was real drunk, and threw beer glasses and screamed at the waitresses. And Stevie, of course, was upset.

That was the final gig that band ever had together." By 1981 Stevie had streamlined Double Trouble down to a Power trio that featured Crackerjack bandmate Tommy Shannon on bass and Chris Layton on drums. It was also right around this time that he began calling himself Stevie Ray. The revamped group, with its clear emphasis on Stevie Ray's toe-curling, Albert King-style blues-power and Hendrixian histrionics, was a big hit back home at Austin blues joints like the Rome Inn, Antone's and The Continental Club. SRV was, perhaps, at the peak of his guitar powers, and was locked in a friendly, unofficial competition with Eric John son for rights to the title, "Austin Guitar God.