Bessie Smith is known as the Empress of the Blues, and she still holds the title even more than 70 years after her death in 1937.


Born poor somewhen between 1894 and 1898 - the exact date is uncertain - Bessie Smith started out as a street musician in Chattanooga, Tennessee. In 1912 she was discovered by the already famous Ma Rainey who asked Bessie to join her travelling show as a dancer and a singer.

Bessie stayed with Ma Rainey's travelling show until 1915 when she joined the T.O.B.A. vaudeville circuit and eventually built up her own following in the south and along the east coast.

Those were the heydays of the classic blues, the times when the stars of the vaudeville began to record - the reportedly first recording of a black American was 'Crazy Blues' by the fabulous Mamie Smith (not related with Bessie Smith) in 1920. Odd enough, the talent scouts looking for more female singers like Mamie Smith considered the voice of Bessie Smith as 'too rough' to be recorded.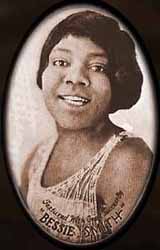 Nevertheless, by the early 1920s Bessie Smith was one of the most popular Blues singers in vaudeville, and in 1923 she got the first chance to record a song with Columbia records. Accompanied by Clarence Williams on piano, Bessie recorded "Gulf Coast Blues" and "Down Hearted Blues." Although the record was released without special promotion it sold more than 750,000 copies that year, a remarkable number for that time.